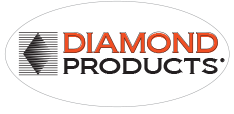 Diamond Products is one of the largest manufacturer of diamond tools in the United States. We are headquartered in Elyria, Ohio which is located 30 miles West of Cleveland, Ohio. The company has grown from twelve employees in the early seventies to one with over 300 employees to date.
-Diamond Products Website ( http://www.diamondproducts.com/About-Us/History.aspx )
Products Sold By Burris Equipment Company:
Core Bits
Diamond Blades
Drill Rigs
Walk Behind Saws
Selecting any of the links below will take you to the Diamond Products website.