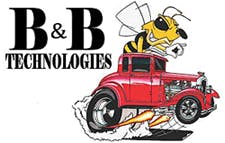 Since 1994, B&B Technologies, located in Tekamah, NE, produces a full range of Ag, Turf, and Lawn Care sprayers. We also manufacture Combine Headcarriers, Fertilizer Carriers for lawn care, Hydraulic Drive Vicons for turf and much more.
Customers always come first at B&B Technologies. We are a small, family-owned company that has the flexibility to meet our customer's special applications.
-B&B Technologies Website ( http://www.b-btech.com/ )
Products Sold By Burris Equipment Company:
Selecting any of the links below will take you to the B&B Technologies website.