The dog days of August are upon us and while it is tempting
to sit in air conditioning while putting your operation on cruise control, now
is the time to plan and refine your cultural practices and equipment needs. Three important areas for time and money
savings are:
Labor
Seeding thin areas for successful germination
Topdressing
Our industry has been drained of good qualified labor,
mostly due to an improving economy and higher pay form other industries. This makes it difficult to get to all of the
varied tasks required finished in a timely fashion to meet our customer
expectations. A good solution is to
invest in time saving equipment allowing your staff to work more efficiently
saving time and labor for other areas of need.
A good example of such a piece of equipment is Turfco Manufacturing's
new debris blower the Torrent 2 equipped with MagnaPoint. The Nozzle Speed allows operation without the
need to wait for the nozzle to be correctly orientated while the Magnapoint
makes it so the operator never has to look back to insure that the nozzle is at
the correct angle. This reduces operator
fatigue and increases efficiency.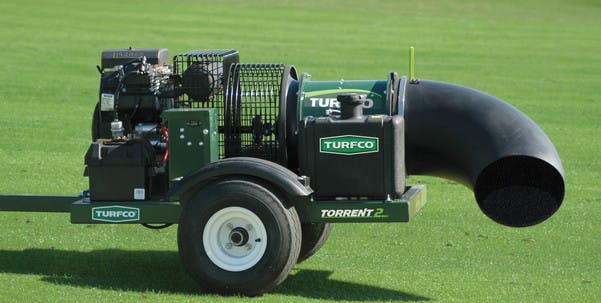 Check out Turfco's New Torrent 2
Grass seed development is speed up by two weeks for every
week seed is put down prior to Labor Day, Making the optimal window to put seed
down August 15 – September 15. Thin
stands of Bluegrass and Bent grass should be over seeded around this time. While optimal Bentgrass seed rates vary with
cultivar Kentucky Bluegrass rates are usually around .75 to 1 pound of seed per
1000 sqft. Critical to any over seeding project is effectively getting quality
seed to soil contact, this is best achieved by use of a Turfco Tri-wave seeder
for highly maintained and irrigated areas and use of a Aera-vator in
non-irrigated areas with Blue grass.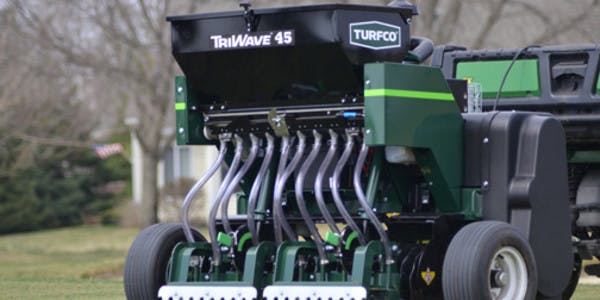 Check out the Turfco Tri-wave Seeder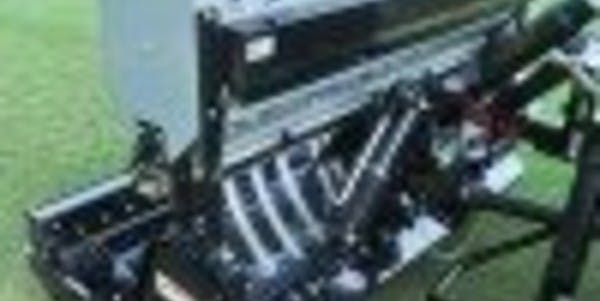 Check out the 1stproducts Aera-Vator
The benefits of topdressing are pretty well known to those
in the Golf industry. Improved
smoothness, thatch dilution, improved recovery, increased firmness, and
improved rootzone are very important and proven benefits of the practice of
topdressing. How the sand is delivered
has varied greatly and with a lot of guesswork and estimating to go along with
it. The new 1550 topdersser from Turfco
takes the guesswork out of the equation with its patented controller allowing
you to calculated sand rates while also giving you a wider range of rates to choose
from including the ability to lock in favorite rates with 4 easy to use
presets. The 1550 also boasts an
upgraded hydraulic system and spinner design making it more versatile while
delivering a consistent even spread from super heavy to super light all without
significant adjustments. The efficient
application combined with the control gives you the ability to more accurately
refine your topdressing media needs and reduces the time needed for optimal set
up.
Check out the Turfco 1550 Topdresser
Saving time and money can be as simple as contacting your
Burris Equipment Sales representative and scheduling a demonstration on how our
products can help your organization become more efficient.