We are very excited to announce that we have just released a new version of our online parts ordering application! Please follow the process below to register and request access. We also have included instructions on how to create an order.
How to Register for Online Parts Ordering
To get started, either click the 'ORDER ONLINE' button on the parts page or click the gray user silhouette icon in the upper right-hand corner of the portal. If you are on mobile you can also select Login from the left side menu.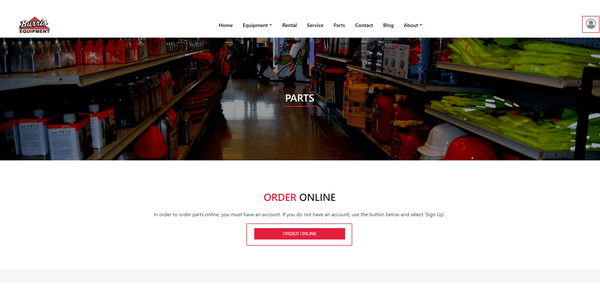 Select 'Sign Up' on the login page and fill in your contact information. In addition to your contact information, you will need to provide your customer number. This number will appear on all previous invoices. If you are not sure what your customer number is, you may contact us at any point during this process.

Verify your email account by clicking the 'Confirm my account' link in the account verification email you receive.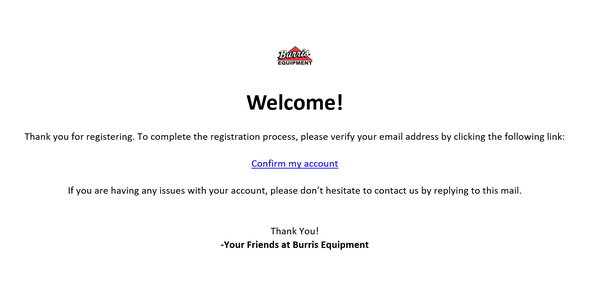 After verifying your email address, please navigate back to https://burrisequipment.com/parts/order. If you selected ORDER ONLINE in step 1, the verification email will redirect you automatically. You will be shown a notice that you must request access to order parts. Click the 'Request Access' button to complete this step.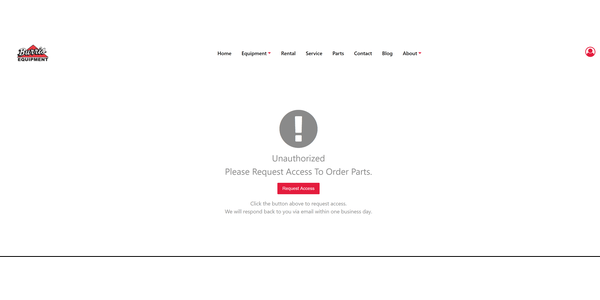 That completes the registration and access request process. We will respond to your request within one business day. Once you have received confirmation that your access request has been approved, you can now order parts on any desktop or mobile browser by going directly to https://burrisequipment.com/parts/order or by clicking the button on the parts page!
How to Order Parts
Navigate to the parts ordering page by going directly to the link, https://burrisequipment.com/parts/order, or by going to the parts tab and clicking the 'ORDER ONLINE' button at the top of the page. Online parts ordering works on any desktop or mobile web browser.
From the ordering page you can search by part description or part number. If your search is contained in either the part number or the description, the part will be shown in the table below. In addition, you can filter your search by vendors by opening the 'Filter by Vendor' dropdown and selecting the desired vendors either before or after you have completed your search. Search results are limited to 100 parts at a time. If your search exceeds that number, please further refine your search. Once you find the part(s) you would like to order, click the 'Add to Cart' checkbox in that row of the table. You can also adjust quantities in the row as well. You can select as many parts as you would like.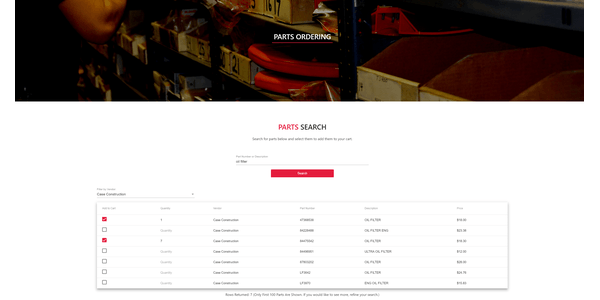 Once you have finished selecting your parts, click the shopping cart icon on the top of the page.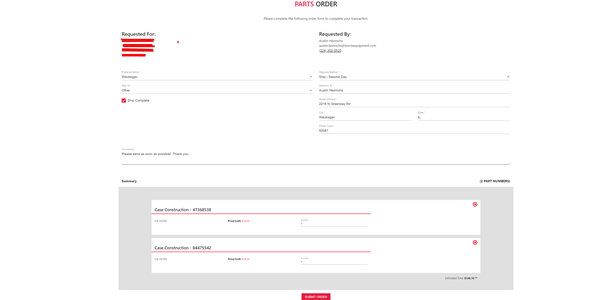 The parts you added to your cart, your company information, user contact information, and any ship to addresses we have on file will appear automatically. Please complete the rest of the form. On this page, you can also change part quantities and remove parts from your cart by clicking the X icon next to the part. Your estimated total will update as you modify your shopping cart.
UPDATE: You may now also view your previous parts orders and print order details. To view your previous orders, login to the application if you haven't already. Then proceed to click the user silhouette icon in the upper right-hand corner and click Order/Request History. From there you can select an order number to view the details of an order.
If you have any questions about the registration or ordering process, please do not hesitate to contact us. We want to make your parts ordering process as quick and easy as possible!